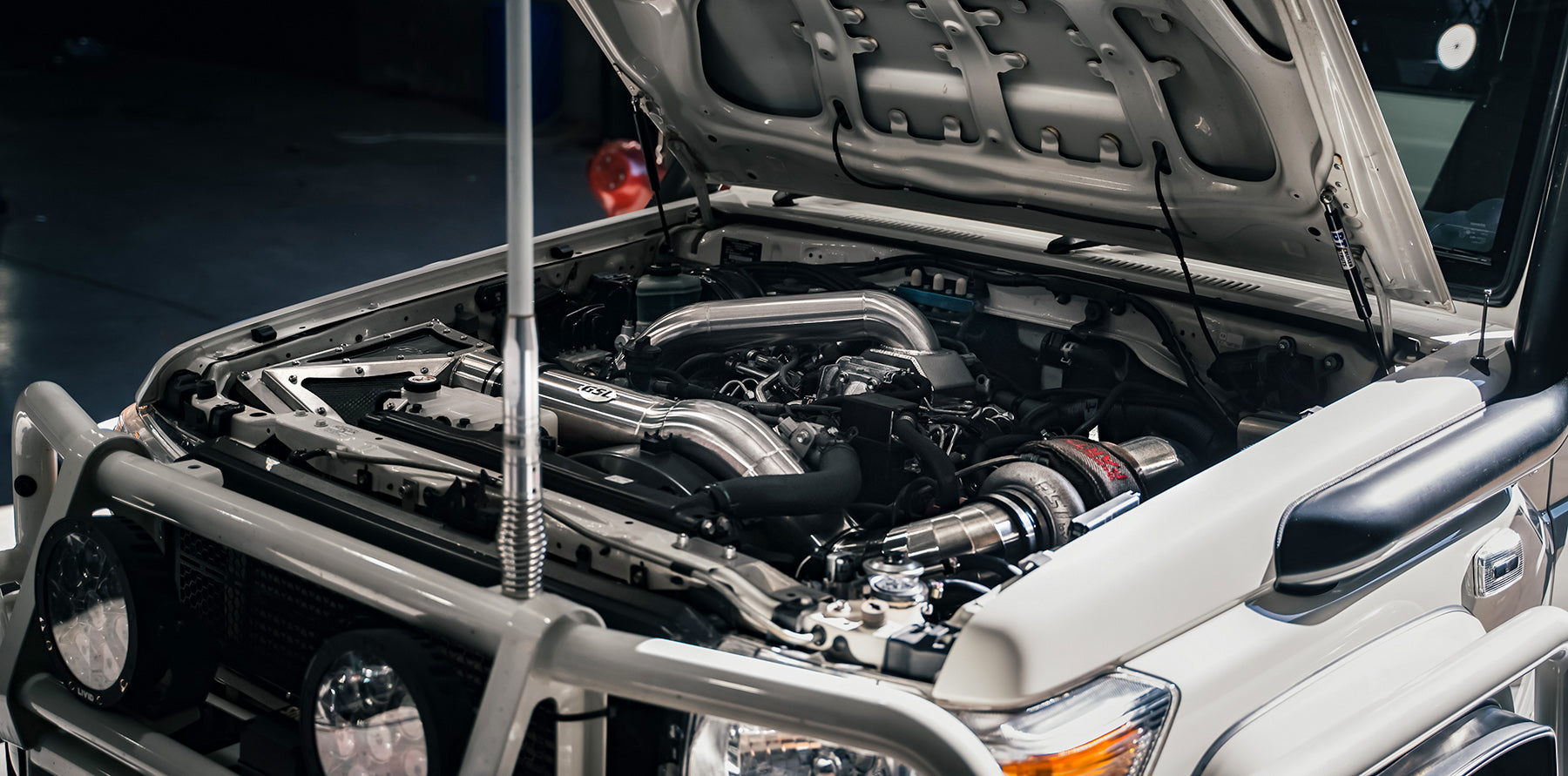 AUSTRALIA'S LEADING COMMON RAIL EXPERTS
We offer a diverse range of performance upgrades for your rig.
deisel performance
AUSTRALIA'S LEADING COMMON RAIL EXPERTS
Known as Australia's leading common rail experts, when you bring your vehicle to us you can relax knowing that your pride and joy is in good hands.
We are continually pushing the boundaries with research and development in the racing industry and on our own vehicles.
Coupling our knowledge from these industries, you can be guaranteed we will get the best performance gains without sacrificing reliability on your everyday driver.
This is why people come to GSL, our knowledge in the industry speaks for itself. After all, we have the fastest Diesel in Australia; how can we not know our stuff?
With every build we ensure we are delivering the best possible performance from your vehicle.
upgrade
Custom exhausts
We created Australia's Original 5" dump to 4" stainless steel exhaust system for your Toyota Landcruiser 76, 78 and 79 Series – we call this exhaust system the gamechanger.
Want to go a step further? Why not step it up a notch and go the most common Twin 4" stainless steel exhaust system.
Got a 200 series? No problem, we offer the twin 3" into single 4" – you won't have heard a better purring TT 200 series.
For all you 4 cylinder owners out there – not to worry, we offer a 3" stainless exhaust or a mild steel systems.
Upgrades
Performance Upgrades
As most people are aware we are not limited to those shiny stainless exhaust systems, we offer many performance upgrades and brands which we stand behind and endorse.
We have tested these brands on our vehicles so you don't have to. After all, who likes to have those awkward phone calls due to an insufficient product?
Some of the performance upgrades we offer at GSL include:
GSL intercooler (Top Mount and Front Mount) GSL turbo upgrades injector upgrades GSL Bash Plates GSL Grilles4" intake upgrades fuel pump upgrades, and airbox upgrades.
We also stock and fit the following performance products:
NPC/All Terrain clutch upgrades ECU shop Motec Prevent catch can Richards Auto lock up kit, and Safari Armax snorkel.
Upgrade
ECU Remapping
We saved the best upgrade for last, the ducks nuts best bang for buck – ECU Remapping.
Did we mention we run master software? This means we build the file for YOUR rig and we customise each remap to personally suit your rig and your lifestyle needs.
We can remap any common rail diesel.
You will not be disappointed with our ability to get the best performance gains out of your rig.